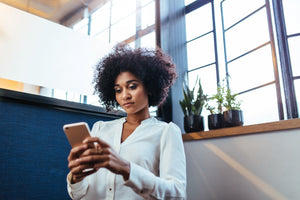 How to Leverage Video On Social Media To Win New Customers
By Tabitha Britt
If you haven't started sharing video content on your social media pages, you're missing out! Not just on an opportunity to build stronger client relationships, but on major user engagement, too. Videos aren't just for YouTube anymore. From promoting local businesses to getting involved in the community, creating and posting videos on social media is a great way to connect with your viewers while snagging lifelong customers in the process. 
Need a little help? Here are a few reasons and ways you should be using video on social media to drive growth in your agency. 
Put Your Name in Front of the Right People
Social media can feel narcissistic much of the time, but when it comes to promoting your agency, that's certainly a positive. It's just important that you do it in a way that aligns with your brand and goes to the correct audience. Thankfully, Videobolt's pre-produced videos make sure that your contact information is presented in a quick, informative monthly video on relevant topics for insurance agents like storm coverage or safe driving. 
Why is it important to have these videos on your Facebook or Twitter? Because that's where people are watching video these days. Forty-five percent of people watch an hour or more of video per day. 
Further, 90% of Twitter videos are viewed on mobile devices and videos are six times as likely to be retweeted as a photo. When your consumers are promoting your work for you, it's not hard to see the value in having video on your social pages.
Create an FAQ with an explainer video. 
How many times have you been asked whether or not flood insurance would be a sound investment? Instead of dragging your clients through pages and pages of policy specifics, explain your coverages with video. 
Creating an explainer video isn't as hard as it sounds. Videobolt, for example, creates templated, pre-produced videos for topics like reviewing your storm coverage or homeowner insurance tips that feature a third-party spokesperson and your name and information about your insurance agency, all for just $99. Need to add even more details? Videobolt's Built It For Me and Build It Myself options let you create customized scripts for your specific topics.
Having these videos on your social media makes your agency top-of-mind for potential customers because you are proactively answering their questions about the sometimes confusing world of insurance. 
Determine your demographics. 
Once you've created your video, you'll need to decide on where to post it. From Facebook to YouTube, your brand can reach new audiences in a variety of ways – but data should be your deciding factor. Eighty-one percent of Facebook users, for example, are between the ages of 18 and 29.
LinkedIn, however, attracts users between the ages of 30 and 49, most of whom live in an urban setting. Right now, 3 million users are getting 9 billion impressions each week on LinkedIn, making it a goldmine for promoting your agency.
While it may seem like an unnecessary step, doing your research will save you time and money in the long run. 
Ready to get going with your social media video marketing? Contact Videobolt today and start publishing videos for your audience this week.
---